American Made Carports strives to guarantee customer satisfaction in all services and products. We offer up to 1 year workmanship warranty as well as 20 Year Panel Rust through Warranty in case of any issues that emerge from a manufacturing or installation point of view. Knowing that this is a large investment we are sure to offer some peace of mind that your investment is protected.
American Made Carports is not in any way responsible for pulling permits for customers. Zoning and permitting are different from one another, and the customer must check with their local building department to see what codes must be met. Failing to do so could result in fines, paying for a building that will potentially have to be torn down or redoing site work for the building installation surface.
Lot Must Be level and Square in order to receive installation and avoid additional charges

All lines running underneath the installation site (power, water, ect) will have to be marked clearly. If unaware, call 811 before you dig, to have the lines marked. 

Area should be clear of minimum space 3' around the site. Have all debris removed, Vehicles, rvs ext. Have the area accessible for the truck and trailer 

Have Payment Ready via cashiers check.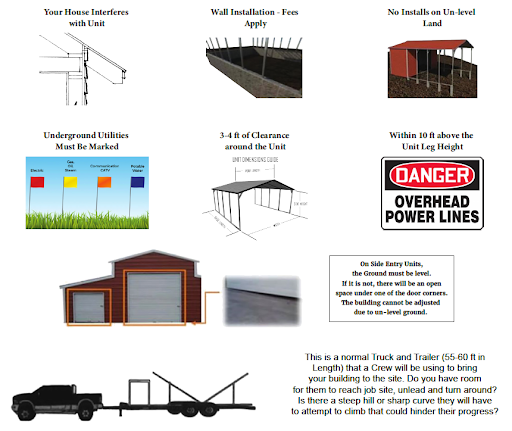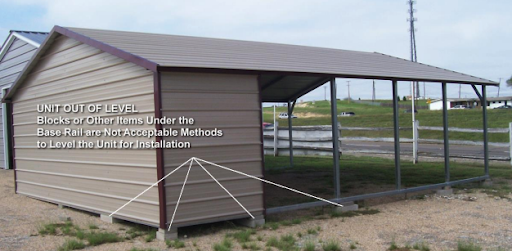 Why is leveling installation sites crucial? It is crucial that the site be level for the installation of the customer's building. An un-level installation site leads to difficulty squaring the building which can trigger issues such as the building leaning and entry doors not closing properly. The customer must understand fully that the site needs to be level. Otherwise:
If the location isn't level and the crew has to level the site, there will be a labor charge added to

the installation at the crew's discretion.


If the crew cannot level the location, the crew may have to return the building to the manufacturer, and there

will be a return trip fee to deliver the building back to the customer. The return trip fee is $250 or 5% of the price of the building, whichever is greater.